Do you Know the Mascot Duffy Bear from Disneyland?
At the entrance of the Shanghai Disneyland old train station store, there is a little bear taking photos with tourists. Many people don't know who it is.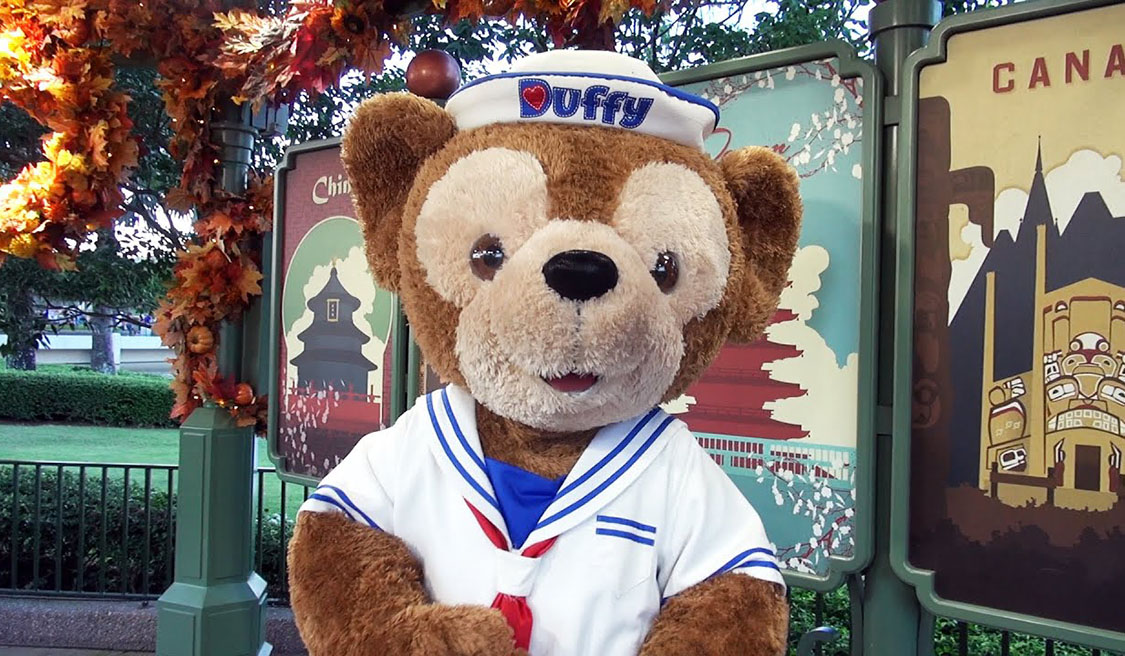 They can only recognize the relationship between the bear and the Disney family from the Mickey's head pattern on the paw of the bear, and take pictures of the bear with enthusiasm. This little bear will high-five with you, coquettish you, and give you a furry hug in the end. It's like a familiar friend around you.
This bear named Duffy is actually a rising star of Disneyland. In Tokyo Disneyland and Hong Kong Disneyland, it is very popular. Its friends include a little bear named Shellie May, a painter cat named Gelaton, and a purple Bunny named Stella Lou.
Disney fans sometimes affectionately call Mickey the "big boss" in the park. It has the largest popularity in the world, the largest variety of peripheral goods, and is also the most enthusiastic co-branding object of various brands. Compared with Mickey, who just turned 90 this year, Duffy, born in 2002, is still a "newcomer" to the Disney family.
However, among the adult consumers represented by young women, Duffy's popularity and economic value are no less than those of old-fashioned roles, and I'm afraid it's better than Mickey. In the peak season of Christmas, you may have to queue up for 3 hours to take a picture with Duffy in Tokyo Disney.
Duffy is very special, different from the traditional Disney friends. Duffy is not born in any animation, it is the original character of paradise. But Disney has managed to turn Duffy into a Disney World sweetheart that everyone loves. More importantly, people are willing to pay for it.
Behind this is Disney's mature industrial chain created through content distribution and derivative development. The development and popularity of new Disney characters such as Duffy have revealed how Disney has built itself into a huge media universe in the past 100 years.
1. Duffy Bear is Almost Forgotten. Fortunately, Tokyo Disney Saved It.
Duffy was first created by Disney in Orlando, Florida. In 2002, in order to promote the new world store in Orlando Disney Town, Orlando Disney created a character called Disney Bear, which is only sold in the world store.
At that time, it didn't have its own name, and there were more than one color: pink, lavender purple, cream yellow, wheat, aqua, etc. At first, it's just a doll without soul. It seems to work if it's rabbit, pig or other cute animals.
2. The Earliest Disney Bear was very Psychedelic
It's no surprise that the American market has a flat response to this new classmate who has no story. However, Oriental Land (hereinafter referred to as OLC), the operation group behind Tokyo Disney, has found opportunities. Most of the six Disneyland parks in the world are managed by Disneyland joint stock companies, and only Tokyo is managed by the third-party company Oretal Land.
In 2005, Disney Bear was packaged and landed in Tokyo Disney under the new name of Duffy. They only kept the most traditional wheat cream color and set a warm story for it: "Minnie gave Mickey a teddy bear. One day, Mickey took his favorite bear to the Magic Kingdom and sat in front of Cinderella Castle. Mickey made a wish: how I wish someone could share the joy and excitement in the paradise with me - at this time, magic happened and the little teddy bear became alive. "
Duffy was born as Mickey's favorite teddy bear, and the subtlety of this setting is that when you buy Duffy's plush toy and take it to the park, the story acquiesces that you are Mickey himself.
A small folding book is attached to each of Duffy's related surrounding trademarks, which tells the story. Until today, you can still find this story with a comic book on the label of every Duffy plush toy. In the eyes of adults, it is somewhat naive, but its existence is essential. On the basis that Duffy has no animation support, it can continuously strengthen people's cognition of Duffy.
3. Improve Duffy's character setting
Since then, Tokyo Disney has gradually improved the character setting of Duffy. In 2010, it began to hold Duffy themed alternating public performances, with Mickey, Minnie, Donald Duck and Daisy helping it. This American cub has had its own welcome house since 2011.
After 2010, Duffy's friends were born. Its good friend Shellie May is also a bear. The painter cat Gelaton, born in 2014, is a new friend Mickey and Minnie met when they were on holiday in Italy. Mickey accidentally knocked over the Gelaton ice cream, and the painter kitten drew a picture with ice cream. Stella Lou is the youngest one. Born in 2017, Stella Lou is a rabbit who dreams of becoming a dancer.
In 2010, Duffy returned to Disneyland in the United States.
But some Disney fans are not satisfied. In their opinion, it is the orthodox way to have a complete and independent story to attract people, and then to have fans of surrounding goods and services. "Duffy means that Disney has now been driven by commodities and marketing methods," wrote Tom Briker, a Disney fan. "Its success only means the maturity of the surrounding commodity development industry chain." Some people think that Duffy is only cute, but there is no such distinctive character as Mickey, Minnie and Donald duck that can only be created by serial animation.
But in any case, Duffy is famous. It took only 10 years to grow from a marginal bear to a paradise sweetheart.